UL/cUL
Labels
Helps customers stay compliant.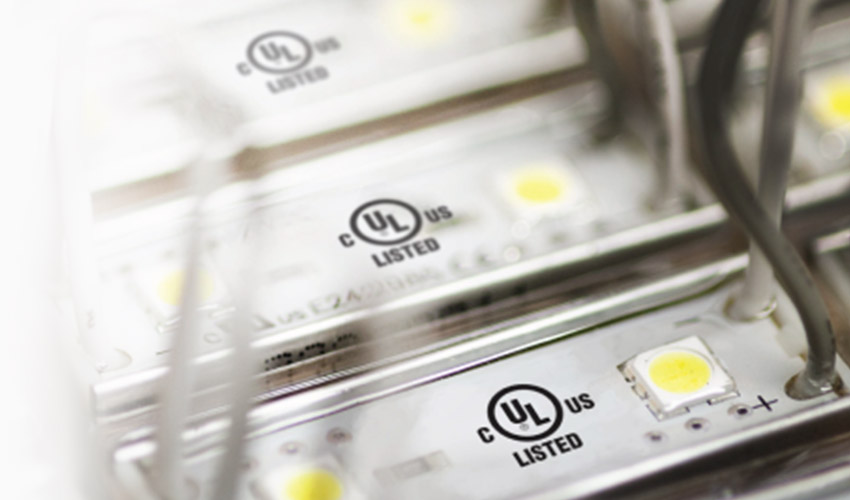 DURABLE UL/CUL LABELS

CERTIFIED LABELS THAT EMPOWER TRUST.
Do your customers need UL and cUL labels? DLS is certified to print the high-demand, specialty labels and can provide both short and long run orders.
What are UL and cUL Labels?
UL and cUL labels provide safety-related information and are permanently affixed to end products. UL certified labels have been approved by Underwriters Laboratories, who is widely regarded as the authority on safety assurance in the US. UL is an independent, not-profit organization that develops electrical safety standards and regularly test products for compliance.
DLS's UL compliant labels are submitted to UL, who evaluates the design and material to certify that the labels meet durability and content requirements in accordance with their standards.
UL as a Marketing Tool for Your Customer
UL certifications are good for your customers. The Certification Marks and the label's promotional badges instill trust in consumers.
According to UL, "UL Marks or promotional badges can be used in marketing collateral, advertising, social content, internal and distribution chain communications, product catalogs, websites, news releases, point-of-sale, trade shows, and imagery promoting a UL certified product, system, process or facility."

Your Customers Benefit When You Work with DLS for UL Labels
Help your customers stay UL compliant. When you work with DLS for your customer's UL and cUL labels your customer can be assured of:
UL Certified labels with supporting paperwork.
Quick turnaround
Tech support and label troubleshooting
1. Gain Credibility with Third-Party Certification
When products are UL certified, manufacturers, specifiers and consumers can be assured of an unbiased safety assessment. Not only does UL verifiy that a product meets the appropriate safety standards, UL field reps regularly conduct unannounced onsite inspections of UL-certified products in the manufacturer's factory to ensure that the product continues to be manufactured in compliance with UL's requirements
2. Stand Out with UL Recognition
UL certifications can be a valuable marketing tool, showcasing the safety of your customer's products. UL offers various levels of certification, appropriate for different products and requirements:
UL Listed products have been tested and evaluated and meet UL's applicable safety standards for consumer use. In some cases there may be additional testing for requirements such as energy efficiency, functional safety or use in specialized applications or environments.
UL Classified products have been tested and evaluated based on certain limited properties. These products should include a statement that indicates the specific scope of the classification.
3. Be Recognized Through UL's Directory
UL maintains an Online Certifications Directory that includes the names of companies authorized to use the UL mark. Those wishing to see if a product is UL certified can search by product name, UL file number or company name. Interested parties can also verify UL certification by tracing manufacturers to Underwriters Laboratories through the UL labels.
Diversified is officially certified by UL/cUL (Listed UL 969 for Marking and Labeling Systems) to manufacture labels according to their strict testing guidelines (both Type L and Type R marks). This means we have passed their rigorous investigative process regarding our manufacturing, quality control, and material acquisition operations. And, we maintain all proper records to ensure on-going compliance. Our label application experts are ready to help you navigate your customer's UL/cUL label project.