GHS chemical
Labels
Market trends and sales opportunities.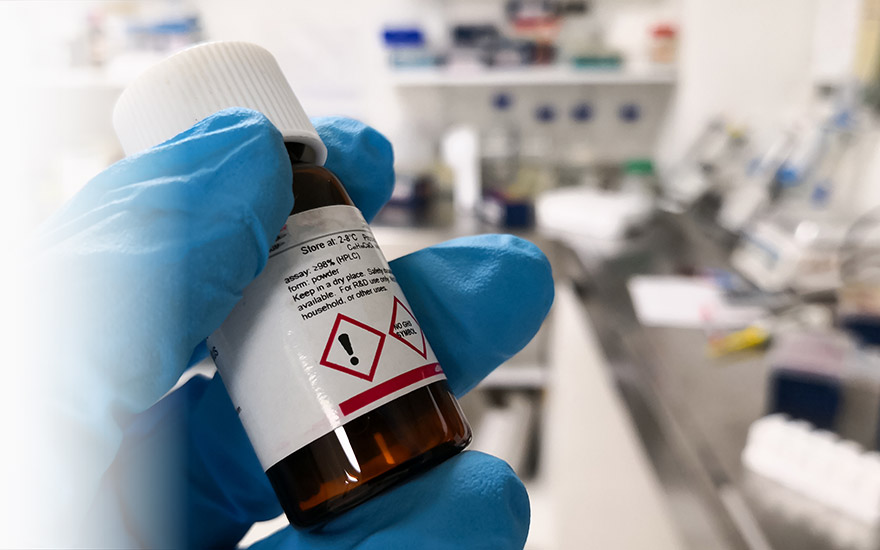 GHS CHEMICAL LABEL MARKET

LEARN TO SELL GHS LABELS.
Do you have customers who ship products overseas? Learn about GHS labels, and consider if there are any sales opportunities among your current and future customers.
What are GHS Chemical Labels?
BS5609 is an international standard of certification that measures the suitability of a specialized label for use on chemical containers for shipment by sea.
Section 2: This section of the certification deals with label performance. It tests the durability of the label's material, ink and adhesion in marine exposure. Among the environments tested are temperature variables, salt spray, immersion tests and weathering.
Section 3: The BS5909 Section 3 compliance is only given to labels that are printed on a specified material and tested in use with a specified printer model or ink. If any of those factors are changed without testing, the label will no longer meet the compliance.
The BS5609 labeling certification means that if a chemical drum was to fall of a vessel in the ocean and was to wash to shore, the label needs to be readable so that someone knows how to handle the possibly deadly chemical. These are the most durable labels available for this application.
Learn more about GHS Labels.
What are the Benefits of GHS Labels to Your Customer's Business?
Digital UV ink printing is unique compared to other, conventional printing methods because it's FAST, durable, and there are no plate or die changes, making it very cost effective. The quality and speed of UV digital printing lets DLS deliver high-quality GHS labels on approved materials for smaller print runs with quantities as little as 100 labels.
DLSdigital also allows for custom variable printing for different containers all on one run, and by being BS5609 certified for Section 2 and 3, we can ensure businesses are operating under current regulations. Larger print runs will continue to run on our fleet of flexographic presses that are also GHS BS5609 certified with Section 2 and 3 compliant inks and media. DLS even pre-prints labels to be run through your customer's thermal printers if variable imaging is needed.
Approaching a Customer about GHS Chemical Labels
Pass this information along to quotes@teamdls.com and we will make sure the customer gets exactly what they need to remain compliant.
Does your label need BS5609 Section 2 & Section 3 approval? (If they are unsure, ask if their product is going to be shipped overseas.)
What type of print technology and printer will be used to print these labels?
To what surface will the label be applied? Will it never need to be removed?
What type of temperatures and environmental conditions will the label be exposed to (heat, cold, humidity, salt water, etc.)?
Will the label need to withstand exposure to water or chemicals? If so, what kind of chemicals
What type of exposure (spray, immersion, etc.)?
Will the label need to withstand any unusual handling (squeeze bottles, abrasion caused by contact against other containers, conveyor rails, forklifts, etc.)?
How long is the label required to last?
Will the chemicals be shipped domestically or internationally?